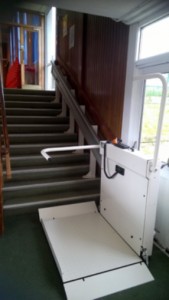 Advanced Stairlifts (Scotland) Limited on behalf of Fife Council have recently installed a new Hiro 350 inclined platform lift for Lynburn Primary School in Dunfermline to allow pupils, in wheelchairs, access the gym/dining hall from the nursery area, just in time for the new school term.
We offer a full range of straight inclined platform lifts as well as curved inclined platform lifts for wheelchairs or seated to ensure compliance to the Equality Act.
Telehone 01383 411400 for further details of our lifts.