Are you having difficulty climbing the stairs?

You may decide it's time to move  and look for alternative accommodation all on the same level such as a bungalow or flat, or look at rearranging your existing downstairs accommodation so you have access to  a bathroom and bedroom.
A simpler and often the most cost effective solution is to consider a stairlift in your home to allow you to continue using all the rooms in your house and to retain your independence.
A stairlift can be fitted in only a few hours without any major disruption – the rail is fitted to the treads of the stairs and only very occasionally do we need to disturb the walls.
The first step you need to take is to request a feasibility survey from one of our fully trained surveyors who will assess what type of stairlift required (straight or curved)  and the features the stairlift should incorporate to meet your particular needs. Our surveyor will also take into consideration the situation at both the top and bottom of the stairs. For instance a doorway immediately at the foot of the stairs may necessitate a hinged track the folds away automatically when not in use.
A straight stairlift will fit stairs with no bends in the staircase and where there is no requirement to run the rail onto the landing.
A curved stairlift is required if there are any bends in the stairs or where a run on is required at the top or bottom of the stairs.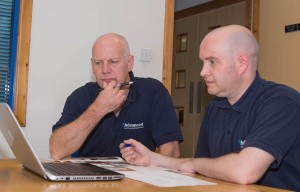 Once the surveyor has established the type of stairlift required he will undertake an assessment of your particular requirements. This will include checking your height, weight, back to knee and floor to knee measurements. He will also ask questions about your dexterity and whether you are right or left handed and your ability to operate a manual swivel seat and step on and off the stairlift. Additional features such as powered swivel seats and footrests may be required to allow safe operation of your stairlift.
Modern stairlifts operate on rechargeable batteries. This ensures you will not be stuck on the stairs in the event of a power cut with sufficient charge to enable several additional trips until mains power is restored.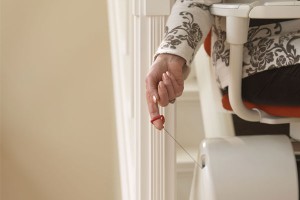 Safety is paramount and all new stairlifts incorporate safety edges on the footplate that will stop the carriage if it hits an obstruction. Additional safety features include a lockable isolation switch where children are present and an overspeed governor (OSG) which will prevent the stairlift rapidly descending the stairs in the event of a component or system failure.
We also supply a range of outdoor stairlifts which are fully weatherised and offer many of the benefits of an indoor stairlift.
Your mobility is our priority and the solution to staying safe and comfortable in your own home could be a stairlift. Buying a lift from Advanced Stairlifts ensures you have 24hour local assistance for all your stairlift needs. You can view our Partners here.
Call us now for a free, no obligation, assessment followed up with a written quotation. We offer only impartial advice and will make recommendations based on many makes of stairlifts we supply, install and maintain.