Adapting your stairs to get the best out of your stairlift

A stairlift is an invaluable aid to retaining independence within your own home. Getting to and from the bedroom or bathroom to a lower floor can mean the difference between staying in your own home or having to look for alternative accommodation which is all on the level.
An example of a simple staircase adaptation is to remove a 1st step 90 degree platform and replace it with a new step to create a neat parking solution at the foot of the stairs, thus removing the need for an additional costly bend and possible hinged rail. We have carried out two such adaptations in recent months in similar type properties. In both cases the clients saved the cost of a hinged rail and a 90 degree bend and this also allowed the stairlift to park off the hallway.
Accurate surveying of the staircase and landing areas, top and bottom, is essential. At Advanced Stairlifts we use the latest digital photo surveying technology to ensure your stairlift fits like a glove on your staircase.
Not only is your stairlift a practical and affordable mobility solution it can, with careful surveying, be un-instructive and even aesthetically pleasing!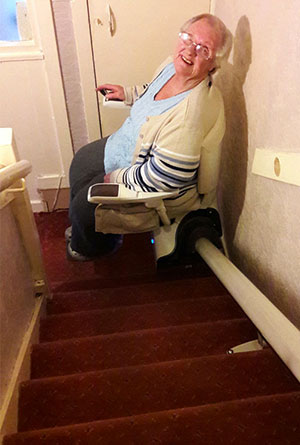 Mrs Hughes of Edinburgh summed it up after we recently installed a Flow 2 stairlift and altered the bottom step in her home by stating;
'the most invaluable piece of equipment I've got. The stairlift is my lifeline. Thanks for a great job well done'.
Now that's what we like to hear!
If you are looking for a custom solution, you can book a Free no obligation assessment here.